Music/Entertainment Background
Music: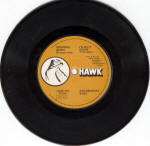 My career actually started in the entertainment field as a professional musician. As a guitarist, song writer, and producer, I have written and produced many records, appeared on television shows in the US and in Ireland, and played live in Ireland, Wales, England, and the United States.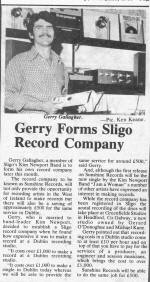 I played in several Irish "showbands" as they were called. Ireland had a vibrant live music scene up until the mid 1980's. For more information you can visit www.irish-showbands.com. A professional In 1979, I penned my first song, which was released by Irish company Hawk Records (see thumbnail at right, click for a full image).
Just a year later in 1980, I formed Sunset Records (not Sunshine) and Gala Music, a record company and music publishing company. Sunset records issued 12 singles from 1980 through 1983 (see article at left). Gala Music, a full member of the Performing Right Society (London, England) handled music publishing on most of those releases. I was also the producer on more than half of these records. Copy of Membership certificate below right. Click on thumbnail for full image.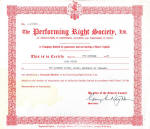 During this time, I also handled publicity for artists on the label, which involved arranging TV appearances, airplay on national radio, and booking the bands for live concert and dance dates.
I was a more or less full time musician until 1983, when I returned to the United States to complete my education, earning a BA in Economics and an MBA in Marketing in just three years. My business career since then is chronicled in my resume. Income from songwriting performance royalities (both live and broadcast) continued until 1991 when I received my final check from the PRS.
Retail Music: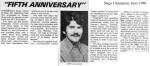 In 1978, I started working in the retail music industry as a department manager for Fitzgerald's Music Centres, a retail chain that operated with 13 stores in Ireland and England. Over my six years tenure at the Sligo store, I was responsible for procuring new product lines, managing the professional audio equipment and musical instrument departments, most in-store displays, and also oversaw the development, construction, and operation of a new 2500 sq ft. Hi-fi Showroom which was added onto the premises. Click on article on left.
Based on my success at the local level, I eventually became the pro audio manager for the entire chain, brokering exclusive distribution deals with several major manufacturers. Additionally, as a tool to sell more guitars and accessories, I also started giving guitar lessons, which resulted in a dramatic increase in guitar sales. I did this in both Sligo and Castlebar, another shop in the Fitzgerald's chain.
Radio:
Around this same time, local radio was breaking new ground in Ireland. I was asked to present two shows on Radio City, the first local radio station in Sligo. Radio City was considered "pirate radio" because licenses had not yet been issued by the Irish Government for the operation of local radio stations.
I was one of the most recognized voice on the station because of my American accent. I hosted a midday request show that was sponsored by the largest department store in Sligo. In the evenings, I came back to the station (when I wasn't gigging) to host a classic rock program. The onset of "official" local radio put an end to the "pirates" and by the time, Sligo got their own "official" radio license, I had returned to the United States.
Video Production: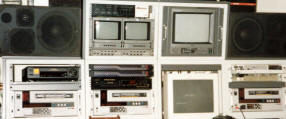 When I left AECO in 1994, I purchased a complete video production suite to add to my already sizable investment in audio recording equipment. With two Sony PVV-1A Betacam SP format cameras, decks, editing suite, and accessories, I was equipped to produce broadcast quality videos. As well as producing AECO's 100 Year Celebration video, I also scripted, shot and produced three product videos for Oblique, numerous training videos, a spot for the IRS in Memphis, a foreign language promotional campaign for the Richland School District and and series of live show productions for local performers in Columbia.
In 1999, I switched to non-linear editing equipment and have been working in that format ever since on the Matrox Digisuite LE Max platform. I currently use Adobe Premiere as my main software editing environment, along with Adobe's Final Effects and After Effects. Additionally, I use Sony Vegas Video for non-broadcast and multi-media applications from time to time. All original footage is captured in the Betacam SP format and transferred to digital for editing. Various Adobe plug-ins and Digital Juice's Jumpbacks are used for effects and backgrounds, as well as Discreet's 3DS Max for animations.
Audio Recording: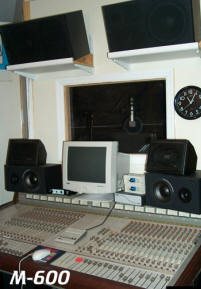 I purchased my first multi-track recorder (a Tascam 22-4 4 track reel-to-reel) in 1981. In 1990, I upgraded the studio to a full service 16 track analog system using a Tascam M-600 console and MS-16 one inch reel-to-reel recorder.
In 2000, I made the leap to digital audio by outfitting the studio with 16 tracks of DA-88 tape-based recording, as well as unlimited tracks of digital audio using MOTU's 1224 and 828 digital interfaces. Editing and mixing is still handled through the M-600 with additional functionality provided through Sonar 3 Studio Edition software.
In 2004, I finally adopted Digidesign's ProTools as the basis for my studio when I purchased the Digi-002 interface and ProTools LE 6.4. I still use analog tape for capture at times, but generally import everything into ProTools for mix down. Together with my existing equipment, I have an unlimited track availability. I can mix down to CD, DVD, 1/4" tape (Tascam 32), or DAT.
With a wide variety of outboard equipment, I have recorded live concerts of both rock music and Irish traditional artists. I also recorded live shows using an 8-track DA-88 synced to video SMPTE time code. You can see my complete audio recording capabilities at: http://www.gmsproductions.com/music.htm.