Fundraising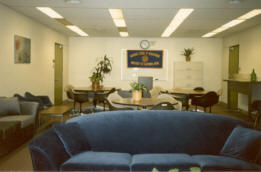 I started fundraising when I was a student at the Graduate School of Management.
At the end of my first year at the school I was elected President of the Student Association. Part of the incoming President's role was to obtain funding from local company's for our annual Awards Banquet.This consisted of small cash awards of between $100 and $500 that were given to student elected by the faculty as the best in a variety of academic fields (MIS, Accounting, etc.). I got on the phone and obtained cash awards in excess of $3500.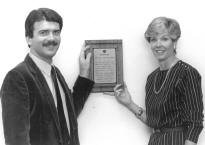 During my second year, as President of the Student Association, I proposed that we renovate the student lounge. The lounge was a large room used for studying, student gatherings, and special seminars by outside speakers. After trying to get funding from the school for the project, it became obvious, we would have to get the money elsewhere. Once again, I began calling local businesses and obtained a wide variety of small commitments to help with the refurbishing of the lounge. Finally, I was able to convince the Rockwell Corporation to contribute an additional $5,000 to the project in return for naming the lounge "The Rockwell Reading Room."
The photo on the left is me with Ann Jennings, then Director of Student Affairs for the school with the plaque dedicating the room.
After leaving GSM, I was elected President of the GSM Alumni Association, a position I held for almost four years (two terms). During this time, the School started a fund to finance a new building. GSM had shared floors in the Social Sciences building prior to this. We set a goal of raising over $80,000 in donations from alums and we surpassed our target through a combination of personal calls (for major gifts of $1,000), and alumni events.
My interest in fundraising eventually led to my application for the position of Development Director for the Graduate School of Management. I was notified that I was a semi-finalist for the position. However, the new Dean of the School, Dr. Dennis Aigner, who had not been in place when the search started, brought his own person for the job and the search was abandoned. In the meantime, I was offered a promotion by AECO products and was transferred to Atlanta.