Vertical Markets
During the past 20 years I have been selling and marketing products to a variety of vertical markets, giving me a broad understanding of customers in the various industries I have served. This page outlines some specifics as to my experience.
Retail:
I spent the first six years of my career in the retail business. I was a manager with a chain of music stores called Fitzgerald's Music Centres in Sligo, Ireland. During that time, I was responsible for merchandising, inventory management, hiring and firing employees, advertising, and purchasing. When I started work there, they were mainly a seller of records and tapes, inexpensive musical instruments, and small radios. I was responsible for doubling the square footage of the store, building a pro audio department and negotiating with vendors in this new area. The pro audio department added both top of the line stereo equipment and upscale musical instruments. Following this, I was also placed in charge of evaluating and purchasing audio equipment for the entire thirteen store chain.
Business to Business:
My B2B experience started in 1985 when I joined AT&T Communications as an Associate Account Executive with the Rockwell National Account Team based out of the Laguna Hills office. I was originally hired as part of AT&T's internship program in which they selected one student from each of the 9 UC campuses. I was UC Irvine's participant. Initially I was hired to research Rockwell's acquisition the Allen Bradley (AB) company. The goal was to find opportunities to integrate AB's telecommunications services with Rockwell's and add their business to the $25 million account. The project became so involved, I was kept for almost a year on a part time basis and ended up presenting the plan to AB's CEO in Milwaukee, along with the team's National Account Manager, Pete Conner.
When I joined Oblique Filing Systems, I continued to serve the B2B market, but also extended into consumer markets as we sold many products directly to end users. While owner of Codified Media Corporation, we continued to explore new niches for our products. Below is a listing of the major markets into which we sold products and systems. For each of the top industries, I created vertical marketing training packages. These packages included sales training information designed to help sales reps tackle these markets, some of which they had previously not sold. An example of a vertical market packages can be viewed by clicking here.
CODIFIED MEDIA CORPORATION'S CUSTOMER BASE
1994 - 2002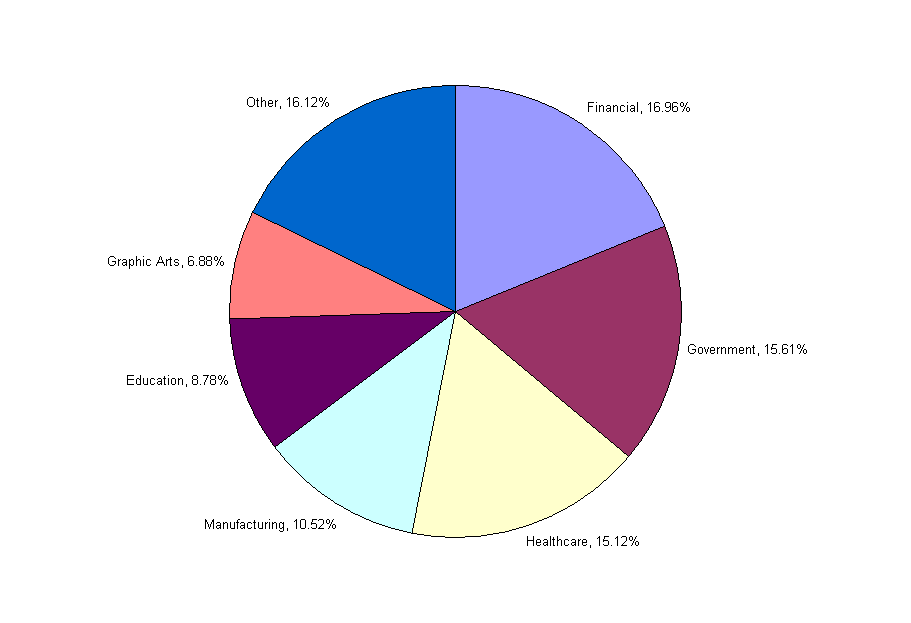 | | |
| --- | --- |
| VERTICAL MARKET | % TTL BUSINESS |
| FINANCIAL (Banking, Insurance, Financial) | 16.96% |
| GOVERNMENT (Federal, State & Local, & Military) | 15.61% |
| HEALTHCARE (Pharmaceutical, Hospitals, Med Dev Mfg) | 15.12% |
| MANUFACTURING (all types, except medical) | 10.52% |
| EDUCATION (Colleges & K-12) | 8.78% |
| GRAPHIC ARTS (Printers, Publishers, Converters) | 6.88% |
| TOTAL BUSINESS FROM TOP 5 INDUSTRIES | 73.88% |
TOP 50 INDIVIDUAL CUSTOMERS
ALLERGAN PHARMACEUTICALS
AMERICAN GENERAL LIFE INSURANCE
AMERICAN GREETINGS CORP.
AMTRAK
APRIA HEALTHCARE
ARTHUR ANDERSEN
ASTRA ZENECA PHARMACEUTICALS
AVENTIS PASTEUR PHARMACEUTICALS
BASF CORPORATION
BLUE CROSS/BLUE SHIELD
BOSTON SCIENTIFIC
CALIFORNIA EMPLOYMENT DEVELOPMENT DEPT
CAPITAL GROUP COMPANIES
CHELSEA GCA REALTY CO.
CHUBB LIFE AMERICA
CRYOVAC - WR GRACE CO.
ERNST & YOUNG
EXCHANGE BANK
FRANKLIN TEMPLETON INVESTMENTS
GLAXO-WELLCOME PHARMACEUTICALS
HENKEL SURFACE TECHNOLOGIES
HERTZ CORPORATION
HIGHWOODS PROPERTIES
ICON CLINICAL RESEARCH
ILI INFODISK
J.P MORGAN
JUST FOR FEET CORP.
MARYLAND BOARD OF EDUCATION
MCI WORLDCOM
MELLON BANK, NA
MERCK & CO., INC.
MONSANTO COMPANY
MORGAN STANLEY
NOVARTIS PHARMACEUTICALS
OHIO DEPT OF TRANSPORTATION
PENN NATIONAL INSURANCE
PFIZER PHARMACEUTICALS
PHARMACEUTICAL RESEARCH ASSOCIATES
RHONE-POULENC AG COMPANY
S & T BANK
SANDIA NATIONAL LABS
SONY ELECTRONICS, INC.
SOUTHTRUST BANK
TIME/LIFE
U.S. ARMY
U.S. DEPT OF ENERGY
U.S. DEPT OF AGRICULTURE
WALT DISNEY COMPANY
WARNER BROTHERS COMPANY
WATSON WYATT